On show at the PICA Salon
Works from the series flight,light and either,either I have been curated into the 2013 PICA Salon. And if that fabulous compliment wasn't enough (green,yellow,green) has been blessed with its own building-length banner!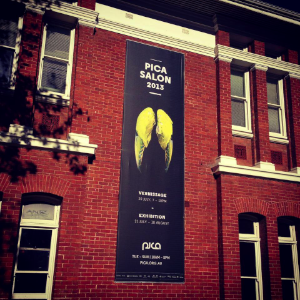 Saturday 20 July, 7 – 10pm
21 July – 18 August
From the PICA website:
The PICA Salon Vernissage, which has gained a reputation for being one of Perth's most sophisticated events, returns for its fourth consecutive year and will be bigger and better than ever!
Please join us in celebrating and investing in the future of Western Australia's leading centre for contemporary arts. Featuring a curated selection of 23 of today's most collectable contemporary artists
Artworks for sale by:
James Angus
Rebecca Baumann
Paul Caporn
Consuelo Cavaniglia
Annabel Dixon
Patrick Doherty
Geoffrey Drake-Brockman
Eva Fernandez
Minna Gilligan
Jeppe Hein
Ben Kovacsy
Joanna Lamb
Ross Manning
Elizabeth McAlpine
Callum Morton
Tony Nathan
John Nixon
Trevor Richards
Carol Rudyard
Helen Smith
CJ Taylor
Louise Weaver